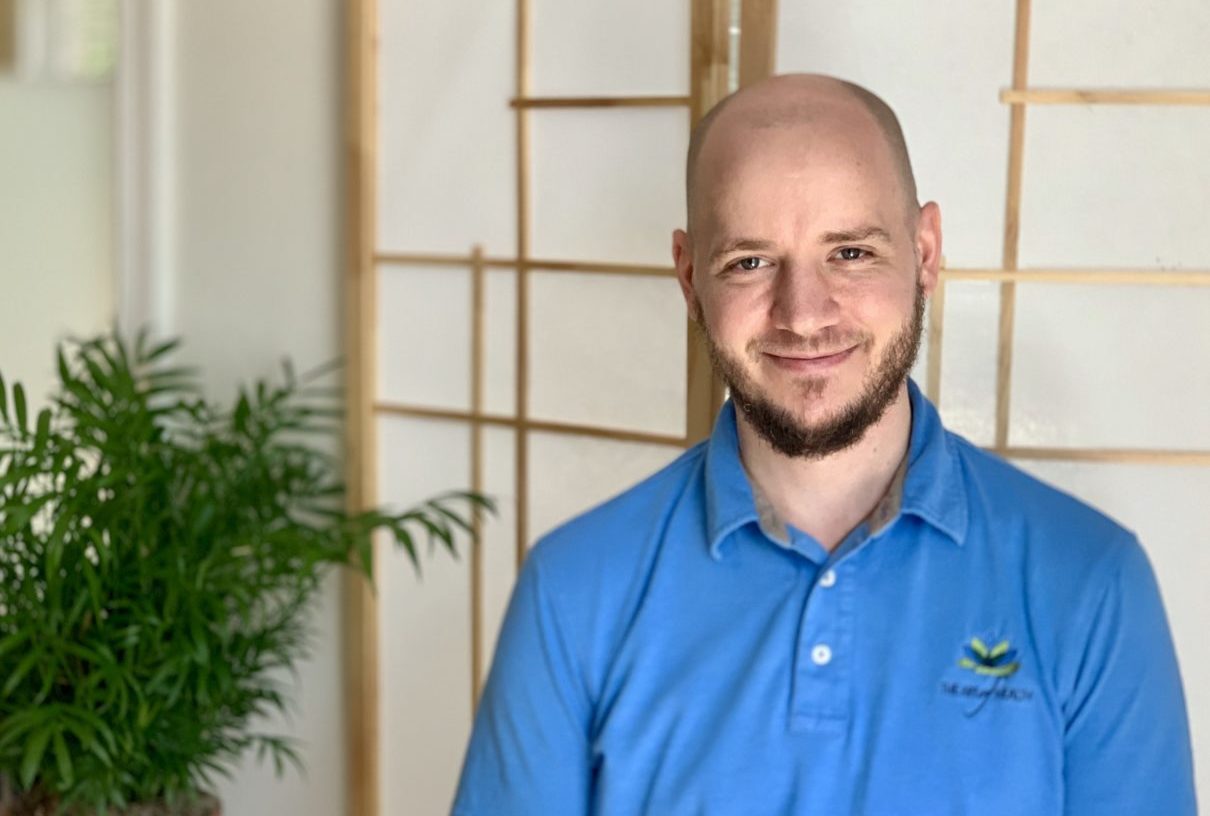 Spotlight on Peter Langsdorf, LMT
For the next edition of our Spotlight Series, we interviewed Peter Langsdorf, LMT. Peter has been with the practice for a little over a year and just became certified in neuromuscular therapy. He is much more than a massage therapist. Peter is a mind-body coach, and loves to educate clients on what might be going on and how to counteract their symptoms with self care between sessions. Read our full interview below. 
How did you become interested in massage therapy?
That's a long story as it's taken me a long time to get here. My very first experience was as a young child, I was a wrestler between the ages of five and fifteen. I would get sore muscles a lot and I found out that if you rub them, they feel better!
I didn't have any concept of massage at that point, but as I got older, family members would ask, "hey, can you rub my back?" Shortly after I got into high school, an injury took me out of wrestling and I wound up finding the theatre world. They're a bit more touchy feely and it's a very physical activity, so we would massage each other as a way of bonding.
I worked at the Maryland Renaissance Festival for a while and same idea, performance actors who are on their feet all day exhausting themselves. It was a similar culture there. Then I sort of forgot about it and went on to the office workforce, Federal contracting for many years, which I still do, and I began to get really frustrated with meaningful impact of things I do in life.
I worked my way back to massage where there is a tangible sense of helping people and having them feel better. I went to a licensed massage therapist I knew and trusted and asked, "how do you get into this work?" He gave me some tips and referrals and I put it out of mind for three years because it's a huge investment. I finally made the leap and completed 18 months of school and here I am. It's been awesome.
What do you love about the field and how do you stay inspired?
I like the sense that my work has some kind of meaning and positive impact on the world around me, which is obviously fulfilling, but what keeps me engaged is the complexity. Everything is new all the time and I don't think that will ever change. I know I am still comparatively new to the profession, but everybody is different and every body is different. There are so many ways to work with the human body that it's endlessly complicated. I love all the various modalities and different clients.
What techniques or modalities do you employ during your sessions? 
Predominantly, my work is Swedish, Deep Tissue and more recently, Neuromuscular Therapy (NMT). I also learned a number of bits and pieces of other modalities that keep creeping back into my work because they're very useful tools to have on hand. Things like myofascial release and biodynamic craniosacral therapy. I've also done some rudimentary early Trager work, which is a movement therapy that tends to help out when other approaches don't work as well.
What has been the highlight in your career thus far?
That's a hard question because it's a comparatively short career so far. It feels like the highlights keep coming! Finding The Art of Health was amazing. Every time I'm able to form a really good connection with a client and watch their quality of life improve, that's a highlight. Another huge highlight has been the teaching work I do, as well, being able to pass along what I know to future massage therapists.
In your opinion, what makes for a successful session? What do you hope to achieve with each client?
Collaboration. I really want to give not just a sense of relief, but a sense of empowerment and understanding. I have a tendency to work in anatomy education and body awareness into each session. I don't want it to just be: you come here, you receive a service, and you leave. I want it to be: you come here, you receive a greater understanding of how to work with your own body and move better through the world, and that gives you tools to keep improving.
What is one thing you wish everyone knew about massage therapy?
That we're not working on you, we're working with you. I believe that the work is not just one-sided. To truly get the best benefits out of massage, it's important for the client to be as engaged as the practitioner so that we're not magically healing anything. We're facilitating change the body is making itself. So, I feel the work is best when we're working with you.
What is your self care routine and what activities do you engage in to support a healthy lifestyle?
Physically, I'm not sure I have it down to a routine yet. I try to stay generally active. Walking further when I can, walking the dog keeps me out daily, which is great. When I can, I like to do things like wall climbing and hiking. I'd like to do more swimming. Just generally trying to stay active in everything I do keeps me feeling better.
Mentally, I do a little bit of mindfulness meditation, which helps me move through the many busy spaces of my day. I do a lot of writing, which has been very good for clearing my head.
When you're not at AoH, where can you be found?
I still work part-time with the Federal government as a contractor. I am at the Department of the Interior two and a half days a week. I teach at Potomac Massage Training Institute one day a week and some weekend days to do workshops. Otherwise, probably at home!
You are gifted an around the world ticket and can visit five countries. Where would you go and why?
I want to go to Greece — not just for the lovely history, but I have a friend who works with refugees there. I've been meaning to get out there to work with the warehouse organization.
I've always wanted to go to Egypt just because I've always been fascinated with ancient Egyptian artifacts.
I should go to the U.K. I definitely want to see the sights there and I know folks out there. My co-author, we do a bunch of writing projects together, has loosely invited me up a number of times. The way we're taught history here focuses a lot on Europe and English speaking countries, so I have a greater attachment to some of the events that happened there.
I'd love to go to Japan for the cuisine and all of the crazy markets. I've heard such good things.
New Zealand because it's a good contrast to the other very urban-focused ideas I've got. Wonderfully scenic, a bit removed, and for the imagined atmosphere and sense of separation from the intense cyclical activity of everyday life. Getting away from what can be a frantic routine.
Peter specializes primarily in Swedish, Deep Tissue, and Neuromuscular Therapy, drawing on an extensive knowledge of anatomy and physiology for precise, therapeutic work. With a calm, steady presence to ground sessions, Peter excels at working with clients to set and pursue their wellness goals, whether they be for recovery, relaxation, or reaching new milestones. Book an appointment with Peter today!