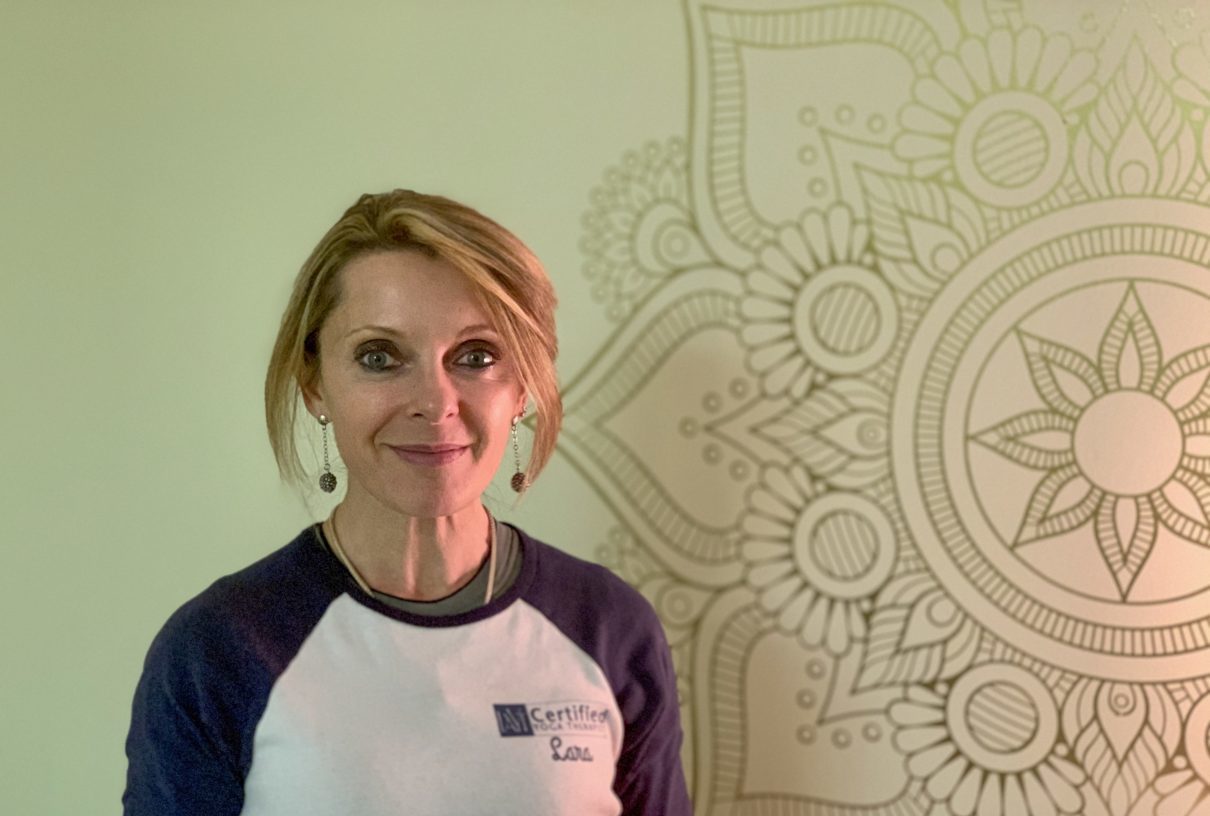 Spotlight on Lara De Luca Truppo, C-IAYT, E-RYT 500
We have been on a roll with Spotlight Series interviews recently! I'm pleased to introduce you to our resident yoga therapist, Lara De Luca Truppo, a 500-hour Registered Yoga Teacher, who also holds a Master of Science in Yoga Therapy and is certified by the International Association of Yoga Therapists. Lara joined the team in September and is truly the puzzle piece that completes our integrative team of practitioners. Read on to learn more about Lara, the difference between yoga versus yoga therapy, and what yoga pose Lara most identifies with! 
How did you become interested in yoga therapy?
I incurred a knee injury and was not able to practice Ashtanga yoga for some time and I was also going through a time during which I was afraid of flying. Dealing with changes and limitations, or simply personal challenges, has and still is allowing me to practice yoga therapeutically to meet my needs. 
I discovered a couple of yoga therapy schools while I was residing in Miami, Florida, where I obtained my first gentle therapeutics yoga certification. Then I discovered the only Master of Science degree in Yoga Therapy at Maryland University of Integrative Health in Laurel, Maryland, and every bone in my body was telling me to enroll in the program. It was during this time that I learned about yoga as a complementary therapy, which bridges health care with yoga teachings and wisdom. 
What is the difference between yoga and yoga therapy, in a nutshell?
Unlike a yoga class, yoga therapy is a one-on-one, multi-dimensional practice, adapted (by a yoga therapist) to meet the needs of individuals who are concerned and troubled often due to a medical diagnosis, illness, injury, pain, which can affect the physical body, the energetic body, the mental body, the wisdom body, and the bliss body. Yoga therapy is complementary to a variety of medical and healthcare treatments. 
Unlike a yoga class, a yoga therapist must use an intake form in order to learn about the health history and present health condition of a client. This is necessary for the yoga therapist to customize and adapt the yoga session and allows for planning a practice that is appropriate to the unique medical findings and other limitations of that individual. 
Yoga therapy includes a physical assessment (postural, gait, range of motion, etc.), breath assessment, simple mindfulness practices, meditation (as needed), imagery, journaling and physical practice. Finally, yoga applied as a therapy is an evidence-based science, just like other forms of therapy, proven to help the prevention and decrease of symptoms associated with various medical conditions. 
A yoga class includes a series of movements and poses, breath work, and some meditation, in a combination of various styles, designed to balance stress, improve physical mobility, strengthening and flexibility. A primary focus is promoted for groups of students willing to follow a yoga instructor for the entire duration of the class. A yoga class is about sharing the yoga experience and the energy level that unfolds when practicing as a group. 
Is there a particular population or certain conditions you love to work with? 
Yes, I love working with all individuals who believe that they cannot or should not practice yoga. This wide audience of people are my ideal clients in that they allow me to apply the yoga teachings (philosophy, ethics, mindfulness practices, etc.) and empower them to learn about their strengths, inner healing resources, and ultimately, reverse the belief that "yoga is not for me." 
I specialize in chronic pain. This symptom is complex and common and it includes a network of biopsychosocial and spiritual events.
What do you love about the field and how do you stay inspired? 
I love the fact that yoga applied as a therapy is helping individuals reconnect to themselves, despite their medical conditions, as whole human beings, and helps them discover the value of identifying as a healthy person.
I stay inspired by my clients' ability to recover and to evolve from the issues they are concerned with. I am inspired by the science that is increasingly supporting yoga therapy as a scientifically proven non-pharmacological therapy for chronic pain states. 
What do you hope to achieve with each client? 
My hope is to help my clients increase tolerance towards challenges, acceptance of changes, cultivate the practice of simple self care and to appreciate the great strength that is innate in each and every one of us. 
In your opinion, what makes for a successful session? 
A successful session happens when both the client and the yoga therapist are able to listen and communicate and when clients understand the importance of remaining consistent with the practice with trust, because only by practicing can individuals increase their understanding of how to work with challenges in a peaceful and healthy way.
What is your self care routine? What activities do you engage in to support a healthy lifestyle? 
I love walking meditation, reading, and singing. All three activities keep me present and fulfilled.
If you had to describe yourself as one yoga pose, which would it be and why?
I have several! I'll start with half moon — this pose allows me to ground, to observe my predisposition toward balance, and to open in all directions.
When can clients see you at AoH? 
I am currently available on Mondays and Wednesdays and on a case-by-case basis on other afternoons during the week, as needed. 
As a Yoga Therapist, Lara is trained to assess her clients using a protocol based on the understanding that human beings are made of five living domains: physical, psychological, cognitive, social, and spiritual. When one of these domains malfunctions, all of the others are affected, creating a unique experience of pain. Book an initial session with Lara and discover the benefits of this growing modality first-hand!