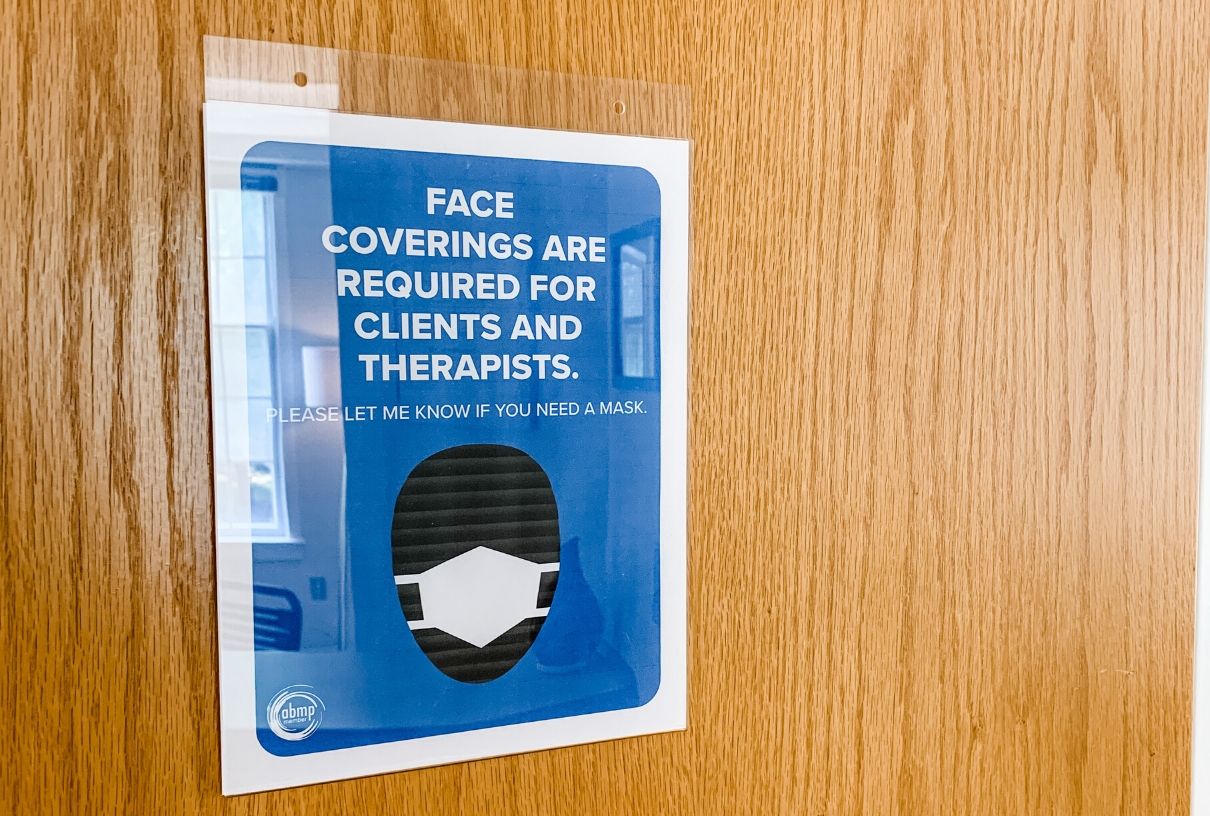 Keeping You Safe During the Pandemic
We reopened our doors in late summer and could not have expected such a warm, welcoming response from our community! Thank you for your patience as we navigated these uncharted waters and put new protocols and policies in place to ensure your safety and that of our team as we navigate how to safely perform massage during the pandemic.
We have outlined these measures below so you will know what to expect from the time you enter our office to the time you exit the building.
Personal Protective Equipment
Your therapist will be wearing a face mask at all times during your visit and we will ask the same of you. We'll have disposable masks handy if you need one.
Screening Procedures
Your therapist will take their body temperature at the start of every shift and carefully monitor their health. We will send you a screening and consent form to sign electronically within twenty-four hours of your visit, as well.
Once you arrive, we'll greet you at the door, ask you a few additional screening questions, and take your temperature with a no contact thermometer before proceeding with the session.
Hygiene and Sanitation Protocols
You'll be asked to come in sparkly clean to your appointment and you'll wash your hands before entering the suite. We have increased the length of time between sessions to disinfect all surfaces with an EPA-registered disinfectant before and after each client.
You are welcome to wipe down any surfaces before your session for added comfort. Hand sanitizer will be readily available. We will do a thorough deep cleaning of the office daily.
Hospital-Grade Linens
Our linens continue to be washed by a third-party vendor using hospital-grade standards and come to us wrapped in plastic and kept away from soiled linens. We will be using disposable face cradle covers for massage sessions.
HEPA Air Purifier
There is a HEPA air purifier in both treatment rooms to keep air clean and circulating. We will open windows between clients for additional air flow.
Plexiglass Shield
We have a plexiglass shield that secures to the massage table and acts as a barrier to protect you and the therapist when you are face up and receiving neck work. This device is currently by request as we have found some clients are more comfortable without it.
I know this may be hard to picture, so if you are curious, it's this one.
Contactless Payment
We will charge the card you reserve your appointment with at the conclusion of your session to avoid additional contact during checkout.
Staggered Appointment Times 
To limit contact, we have staggered appointment times for our two treatment rooms so you will never be in the company of another client in the waiting area or at the reception desk.
Updated Cancellation Policy
If a client cancels within twenty four hours leading up to the appointment time or if an appointment is missed, a fee equal to the amount of the scheduled service cost is owed and will be charged to the client's card on file at the time of cancellation.
Clients are encouraged to send someone in their place if they are unable to make their appointment. Please let the office know as soon as possible to ensure the necessary intake forms are completed.
If due to illness, please contact us immediately to let us know. Fees are waived at the discretion of the practitioner.
Limitations During the Pandemic
In addition to these precautionary measures, we wanted to let you know of a few other limitations to our care during the pandemic.
Longer Sessions Are By Request Only
To ensure proper spacing between clients, we are currently only offering the ability to book 60-minute sessions online. 75- and 90-minute sessions are by request only. Please contact us directly if you would like to schedule a longer session. 30- and 45-minute sessions are currently not available due to the extensive sanitization protocols we have put into place to ensure a safe massage during the pandemic.
If you have previously purchased a gift certificate or package for a different amount of time, please contact us so we can figure out the best way to redeem it. You can also hold onto it until we decide it is the right time to expand our offerings.
Operating at Half Capacity
Our team's thoughts and feelings surrounding returning to the office are likely representative of the community at large. Some of us are ready, while others have high risk loved ones at home or are simply not comfortable yet.
At this time, Nicole, Peter, Barbara and Lara will be available to you. Lauren plans to hold off a while longer. Chrissy will be seeing virtual nutrition clients only for the time being. We'll continue to inform you as team members open up their availability. If you would like a recommendation of who to see in your regular practitioner's absence, please reach out.
Scalp, Face and Intra-oral Massage
At this time, we are not offering bodywork to these regions due to the PPE regulation. We hope to be able to offer this safely again soon.
Additional Visitors
We ask that you come alone to your appointment as our waiting area will be closed to reduce the risk of transmission.
You can book your appointment when you are ready.
We can't wait to welcome you back for a massage during the pandemic. These are tough times, but we will get through them together. Any questions or concerns, please don't hesitate to reach out!
Chrissy and the AoH Team